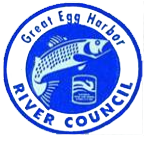 GREAT EGG HARBOR NATIONAL SCENIC AND RECREATIONAL RIVER COUNCIL
The Great Egg Harbor River was studied and designated into the National Wild and Scenic Rivers System in 1992 based on its outstandingly remarkable cultural, historic, recreational and natural resource values and became a cooperatively-managed unit of the National Park System.
A Comprehensive Management Plan was developed, which called for the creation of a River Council made up of the 12 local municipalities with acreage in the designated river corridor, and 1 member appointed from the Great Egg Harbor Watershed Association.
The purpose of the River Council is to assist municipalities in effectively implementing the Great Egg Harbor National Scenic and Recreational River Comprehensive Management Plan and Local River Management Plans with the National Park Service, and to coordinate among competing interests, always keeping in mind resource protection.
For references to the original Memorandum of Understanding, the Comprehensive Management Plan, and Maps, click HERE.